Looking for key tags, literature or books?
MEETING LIST CHANGES
If you have any changes that need to be submitted: Corrections, Changes, Deletions, etc. please use the "Contact " section of our Website, and check Chips and Lit. Someone will respond as soon as possible.
STARTER KITS
If you would like to start new meeting and require a Starter Kit, please use the Order Form below and indicate the following information in the Comments section:
Name of group
Day and time of meeting
Format ( open, closed, big book, topic, speaker, etc.)
Name and address of facility
Any special access/entrance instructions?
Wheelchair Accessible?
Please note that the Starter Kit, as well as all chips and lit orders, will not be available for pickup until further notice so make sure you include the shipping address.
NEWSGRAM
This is a quarterly newsletter from Cocaine Anonymous World Services. They are actively accepting submissions from members of the fellowship. We get a few printed copies every few months and they are made available at the Area meeting Literature table; however, it is also available online at:
Download the Newsgram: https://museum.ca.org/ca-newsgram/
OTHER ITEMS AVAILABLE FROM CA WORLD
Coloured Medallions are available by special order for $20 USD (about $28 CAD) for any denomination between 1 year and 50 years, in your choice of 13 colours. Please allow at least 2 months lead time. Members may also order this item directly from CA World.
https://ca.org/product/metal-recovery-medallion-new/
QUIET PEACE SPECIAL EDITION
A limited time offer – A boxed, faux blue leather bound copy of our Daily Meditation book is available by special order for $35 USD (about $45 CAD). Please allow at least 2 months lead time. Members may also order this item directly from CA World.
HTTPS://CA.ORG/PRODUCT/QUIET-PEACE-COMMEMORATIVE-LIMITED-EDITION/
STEP WORKBOOK
CA World is also accepting submissions for our first Step and Traditions Book, and a 12 Step Workbook. For details, click here.
PRINCIPLES MEDALLION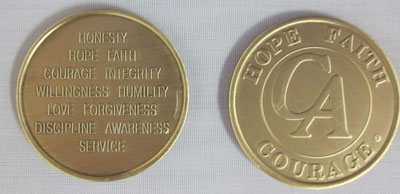 PLACING AN ORDER
Please fill out the fields below for the items you wish to order. Your total will be calculated at the bottom as you enter the quantities. Please round up your total to the nearest $5 with keytags or pamphlets.
Orders can also be made by phone, using our Info Line 416-927-7858, 1-866-6-CA-INFO, 1-866-622-4636, using box #9.
Here is a printable version of our Order Form which can be used to assess your group's inventory needs: JAN 2022 CHIPS-LIT-ORDER-FORM
Orders are subject to change, based on availability. You will be notified (via the email address that is entered on the form) if your order needs to be adjusted. Payment can be made by Cheque, Money Order or e-transfers to socaareatreasurer@gmail.com with the password "socachips"
When placing an order, include your shipping address. Once order processed, invoice with shipping fees is sent to the group ordering. The group can then to e-transfer directly to the treasurer (treasurer@ca-on.org ).  No pickup orders at this time.