Recovery from cocaine and all other mind altering substances.
March 16, 2018 — Southern Ontario Cocaine Anonymous is a registered, charitable non-profit corporation and belongs to the North Atlantic Region of C.A. Our boundaries a delineated by this map.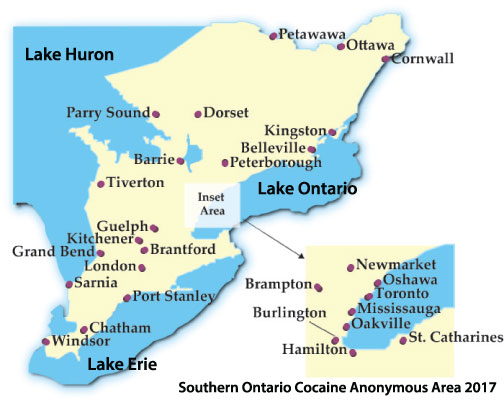 Initially, our Area was a Toronto District and part of the Quebec Area. Our first C.A. Group, First Toronto Group of C.A. was started on February 2nd, 1987. According to early Toronto C.A. Members, the sub-culture of cocaine users was quite different than that of A.A., so it was exciting to have a meeting focused entirely on recovery from cocaine and all mind-altering substances.
Submitted by our first World Delegate, David L., our C.A. Area was ratified in 1998. At the time of ratification, our Area had no districts and 15 C.A. Groups. Today, Southern Ontario C.A. has 70 C.A. Groups and 29 H&I Service meetings. Our Area Service Committee meetings take place on the second Saturday of every month at 10:30 am and generally last approximately 2 to 3 hours in length. There are approximately 1000 to 1200 C.A. Members throughout the Southern Ontario Area. Our Area has been experiencing a steady increase in membership and in the number of successful C.A. Groups.
Our Area website is http://ca-on.org. Southern Ontario Area hosts many activities and events to promote unity and enthusiasm throughout its fellowship, such as, Celebrate Around the World, Anniversary celebrations, special event campouts and picnics, golf tournaments and roundups. In addition, our Area hosts an annual Area Convention with its own website https://socaconvention.org. This site was created by the SOCA Archives Committee and not only promotes the current SOCA Convention, it also archives all the previous SOCA Conventions from 1997 forward. The mission of the SOCA Archive Committee is to collect, protect and preserve, organize, catalogue and present historically valued documents, printed materials, items, artifacts, ephemera and memorabilia of Cocaine Anonymous in Southern Ontario into two archival collections: 1) Southern Ontario C.A. General History and 2) The Southern Ontario C.A. Convention History.
We are very grateful to the handful of addicts who decided to bring CA to Southern Ontario.
Volunteers are needed for the Info-Line to check messages throughout the day and call back addicts who need a meeting. Please call the Info-Line at 416-927-7858, or 1-866-622-4636 (1-866-6-CA-INFO) and leave your name and number in box #8 if you'd like to help.
We regret being unable to offer links to non-C.A. sites, due to our longstanding tradition of non-endorsement of outside enterprises, whether related to our goals or not. While we are grateful for all links from other Web sites, we do not endorse any product, service or opinion offered by any outside organization.
This site copyright © Cocaine Anonymous World Services, Inc. "C.A.", "Cocaine Anonymous" and the CA Logo are registered trademarks of Cocaine Anonymous World Services, Inc. All rights reserved.
For technical comments or questions about this site: Contact us.